Processed: stone # 56 and # 7, dust, basecoat
Unprocessed: rough, boulder, boulder, soil
Alia Aggregates specializes in supplying high quality processed and unprocessed stone material.
Our plant is located in Panama West, Corregimiento Guadalupe, La Valdeza Sector, La Chorrera.
The main raw material for the production of our aggregates is basaltic stone, which guarantees the physical and chemical characteristics of the material used in standard concrete and high strength. Our rigorous quality control is present in every stage of the production process, from extraction to delivery.
Panama West Sector Plant, La Chorrera
Located in La Valdeza, with quick access to the Arraiján-La Chorrera highway, which facilitates prompt and efficient distribution in the western area
We mainly serve concrete (stone No 56, stone No 7), blockers (dust) and civil projects (sub-base, capabase). We also have an unprocessed material dispatch line that focuses primarily on civil projects (rough, mattock and filler material).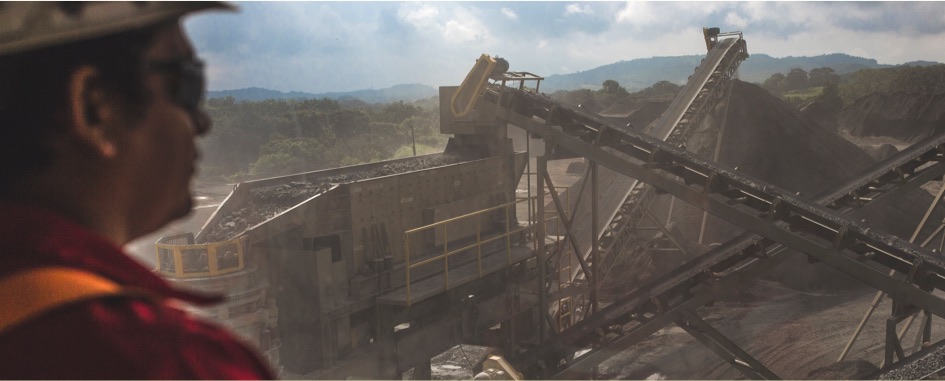 The Aggregates Division has a quality management model that complies with ASTM norms, among others:
| | |
| --- | --- |
| Concrete Aggregate Tests | Applicable norm |
| Granulometry | ASTM C-136 |
| 200 Mesh washed | ASTM C-117 |
| Unitary Weights – loose and rebarred |  ASTM C-29 |
| Organic Impurities | ASTM C-40 |
| Specific gravity and percentage of absorption of coarse aggregate | ASTM C-127 |
| Specific gravity and percentage of absorption of fine aggregate | ASTM C-128 |
| Erosion by sodium sulfide | ASTM C-88 |
| Sand Equivalency | ASTM D-2419 |
| Los Angeles Erosion | ASTM C-131 |
| Aggregate sampling method | ASTM D-75 |
| Test method for lumps of clay and undesirable particles | ASTM C-142 |
| Percentage of split faces | ASTM D 5821 |
| Elongated and flat particles | ASTM D 4791 |
| | |
| --- | --- |
| Base Layer and Selected Material Tests | Applicable Norm |
| Consistency limits | ASTM D-4318 |
| Standard Proctor | ASTM D-698 |
| CBR | ASTM D-1883 |